The services are now getting easier to avail, but choosing the right option has never been so challenging, thanks to the internet. The enormous options of online homework help students get more confused about what could be the best option for them. We understand that it's tough, which is why we've decided to make the selection easier for you.
We have narrowed down three online homework help options for you. Our expert team has taken services and checked every aspect from a student's perspective. After careful consideration and thorough analysis of these three sites, we have come up with this comparison article that offers all the relevant information and helps you decide which alternative is the better option if you think what to choose: TutorBin, Course Hero, or Bartleby?

TutorBin began its journey aiming to create a positive learning environment that fulfills the knowledge gap in students and provides them with meaningful learning. It is an online learning platform that helps students in academics through personalized online homework help and other study aids. This site is connected with highly qualified subject matter specialists, tutors, and writing experts. Over the period, this site has become one of the best academic help providers for students by offering high-quality, unplagiarized, on-time solutions. Although TutorBin is one of the prominent sites for online homework help, its prices are undoubtedly competitive.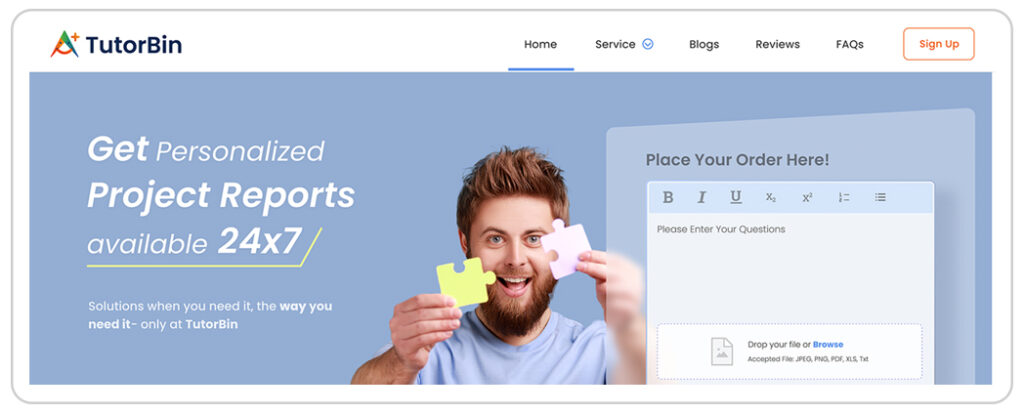 The Following Services are Offered By TutorBin:
Assignment/Homework Help
Live Session
Lab Report
Project Report
Presentation
Essay Writing
Speech Writing
Video Solutions
Q/A Library
Upcoming Services
One-on-One tutoring
Content-based solution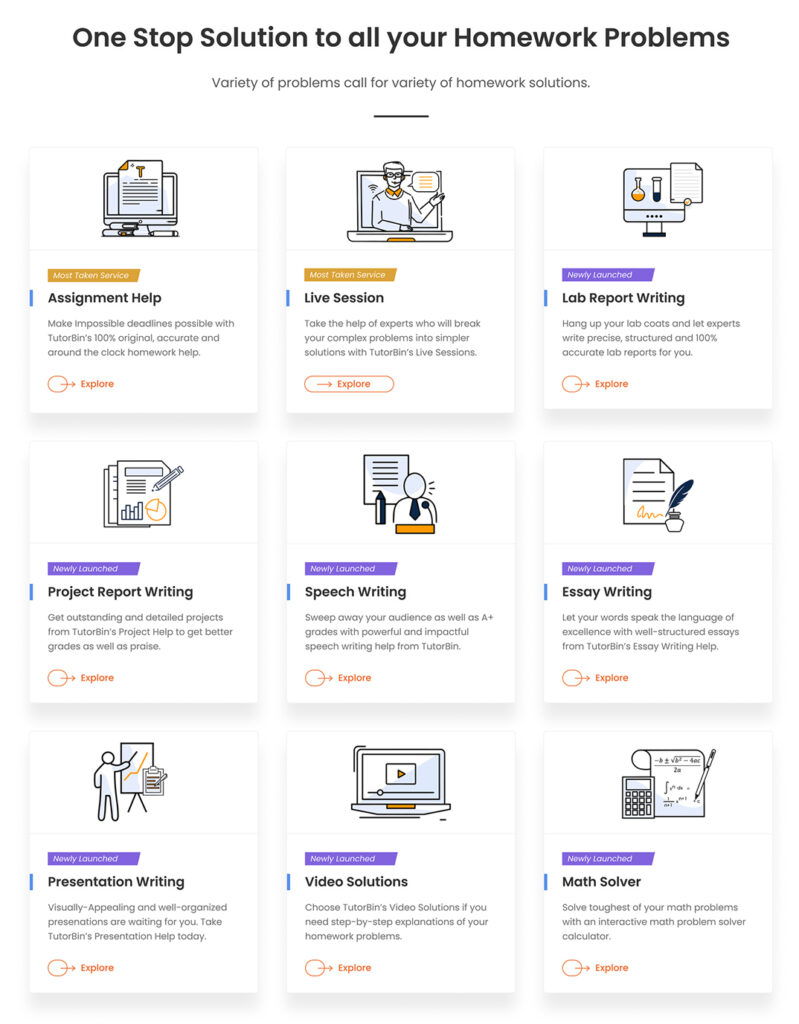 The Following Services Are Additional Benefits From TutorBin
As an expert, we have noticed a prominent difference between TutorBin and others. Where other sites charge for the following services, TutorBin does not count them as chargeable. This site doesn't charge extra for all these services. As an example, if you are taking online homework help for writing, your proofreading, grammatical checks, and editing will be included. The expert tutor team of this site will proofread it, do the checks and make final editing before submitting the tasks. This might be one of the significant reasons why students prefer TutorBin. It not only serves dedicatedly but also focuses on customer satisfaction.
Proofreading service
Grammatical Checking
Plagiarism Checking
Citations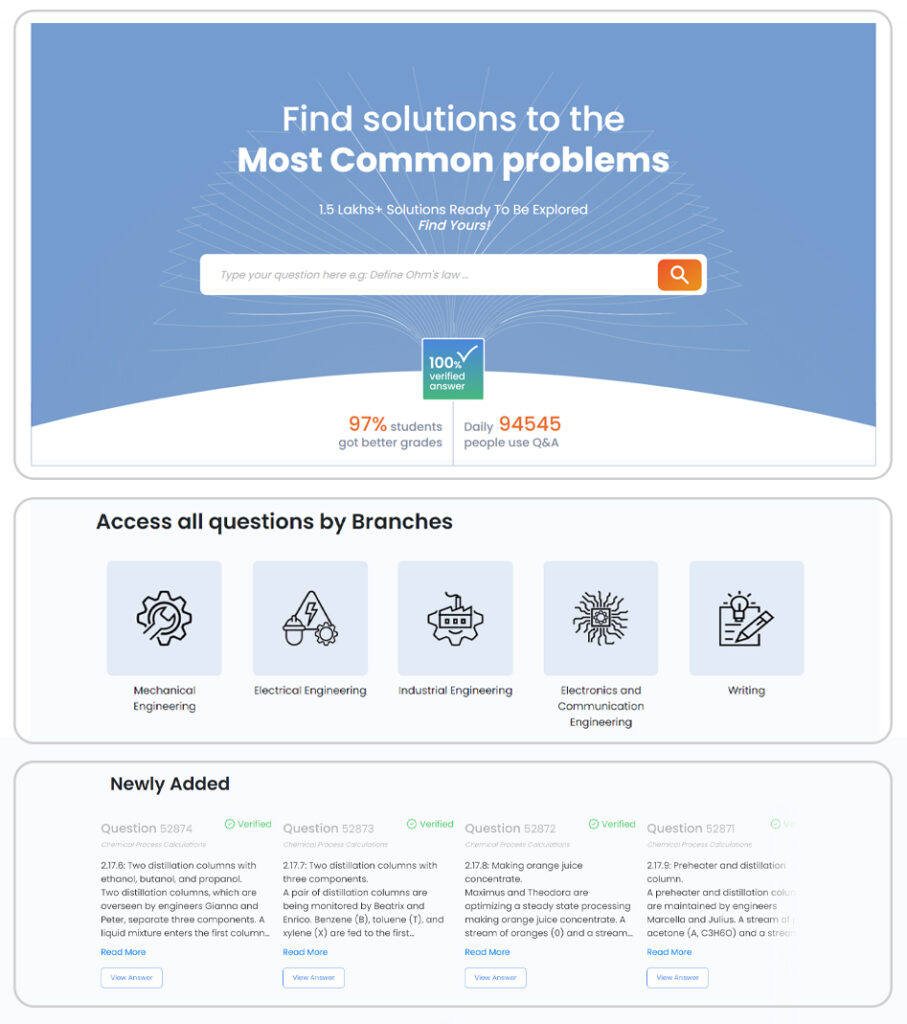 TutorBin is Known for the Following Specialty:
1. $20 reward upon registration
2. Redeemable reward points
3. Free revisions until you satisfy
4. Money-back guarantee if not satisfied
5. Help you start early earnings through reference
6. Free plagiarism report
7. Access to solved solutions
8. Citation & references
9. Multiple revisions
10. 24/7 Help from experts
Why is TutorBin Considered One of the Best Options for Online Homework Help?
Personalization of online homework help for more than 500 subjects not only eases academic hurdles but also raises the chances of success for students. On-demand precise tutoring from subject matter experts assists students when they feel stuck by filling their knowledge gap. Lifetime library and solutions access make problem-solving far easier than anticipated. This common online learning platform for academic help enables students and tutors to meet their requirements easily and fulfill them. Through explainer video solutions, students get conceptual understanding and also clear their doubts, if they have any. Whether it's study assistance or homework completion, whatever the reason is, students get every solution they require to achieve academic success. It works dedicatedly to promote meaningful learning beyond barriers. With TutorBin, students mostly feel safe and secure as they are extremely confidential and offer competitive pricing, despite their high-quality service.

Course Hero is one of the best online homework help providers in the EdTech industry, working to develop a useful academic help platform for students. It puts its effort into making learning more accessible and effective for students. The site offers homework help, textbook solutions, and study materials to ensure students don't feel left out whenever they are stuck. From library to 24/7 expert assistance, Course Hero has every possible solution for students due to its strong team of experts on diverse subjects. However, this site's service cost is reasonable if you compare it with others.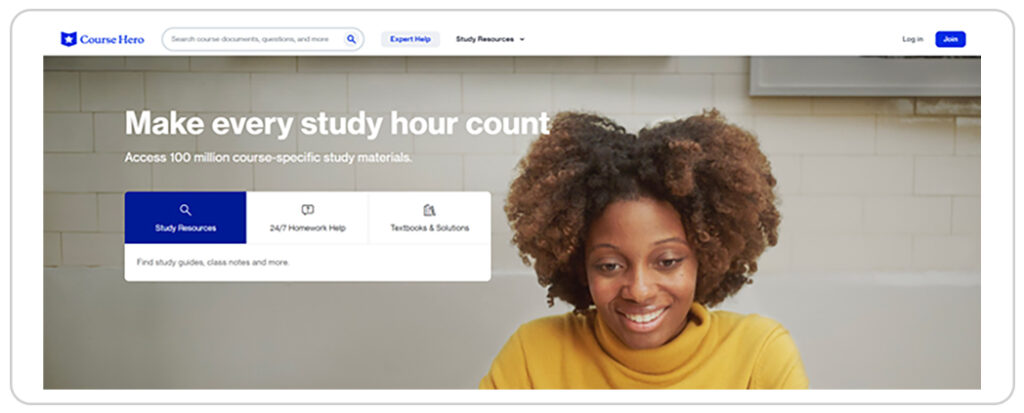 The Following Services are Offered By Course Hero:
1. Study Materials
Study documents on popular courses
Study docs of university coursework
2. 24/7 Homework Help
3. Textbook Solutions
4. Library
5. Lab Report
6. Test Preparation
7. Exam Sheet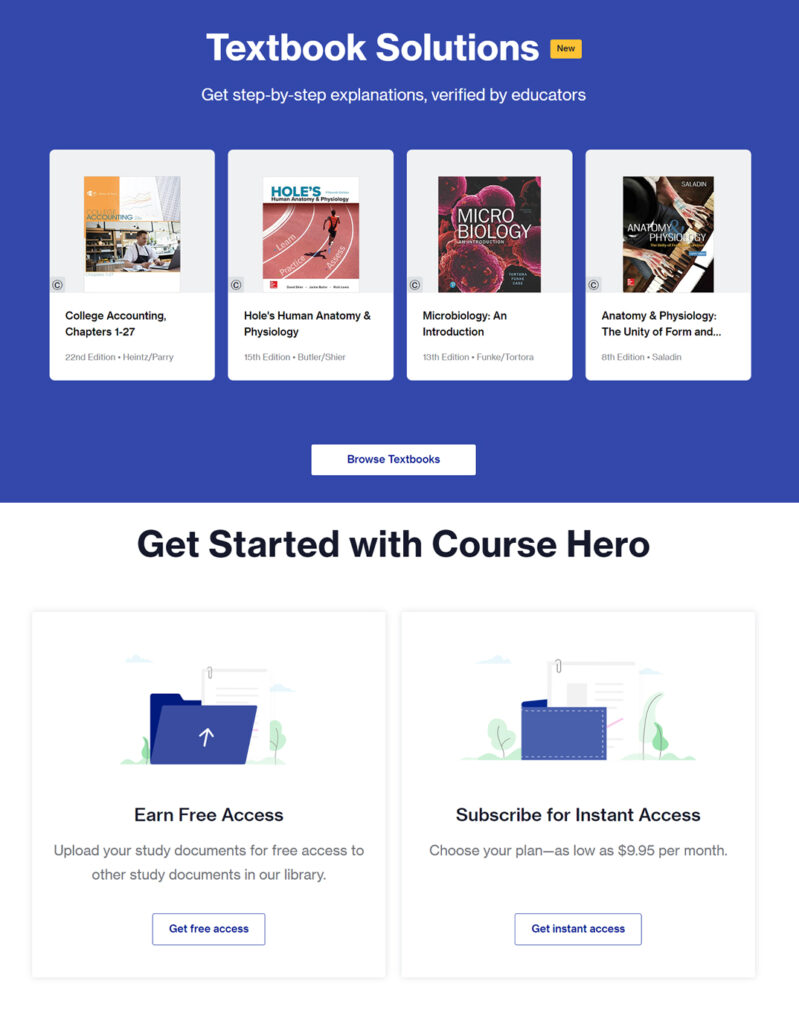 Course Hero is Known for the Following Specialty:
Expert tutor available for customized help
Step-by-step explanations from subject specialists
Fast answers
Reliable and fully confidential
Standardized tests for better preparation
$9.95 for instant access to homework help
Campus Rep Program
Why is Course Hero Considered One of the Best Options for Online Homework Help?
Course Hero is an online platform that develops with the aim of providing students with effective learning opportunities. It makes every hour worth whatever students spend on this platform. Believing in equity in education, this site promotes effective learning practices that increase the academic inclination of students without making them feel anxiety and stress. Course Hero provides students with study documents of diverse coursework from different subjects & streams.
Students who are looking for study materials from different universities can check this site as well as you will get university study docs from here. Students can log in to this site for online homework help, irrespective of their classes. They have a strong base of subject specialists offering learning aids whenever you need assistance. In addition to it, you can also get free access to the library for popular questions and answers. This way, Course Hero ensures that students get knowledge without burning a hole in their pockets and also become successful in academics.

Although Bartleby is a new chip in the block, its growth is extraordinary. This online homework help site is steadily providing students with diverse academic support to ensure their study outcomes improve significantly. With Bartleby tools and expert tutors in different subjects, this site has become one of the reliable resources for students. It enables them to get the required assistance whenever they need it. With its excellent subscription, academic tools, and expert help services, they succeed in their studies without stressing over the pocket pinch.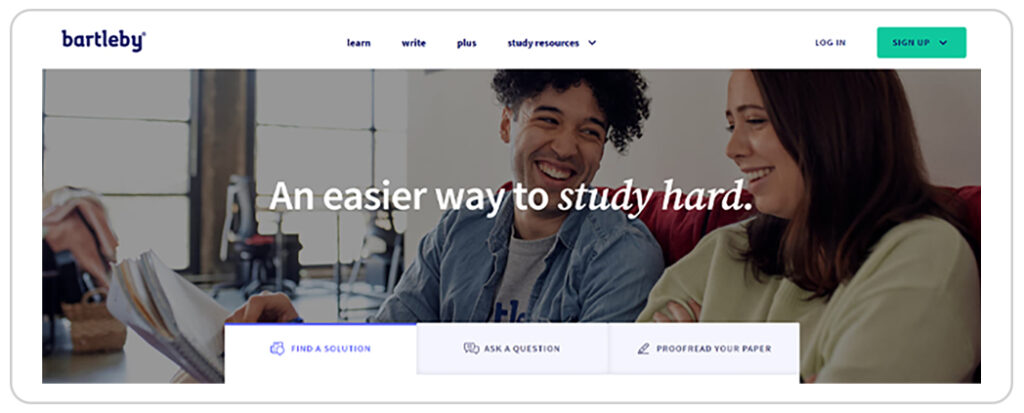 The Following Services are Offered By Bartleby:
Bartleby Learn
Textbook Solutions
Expert Q&A
Math Solver
2. Bartleby Write
Essay Template
Plagiarism Detector
Grammar & Spell Checkers
Preliminary Scoring
Citations Generator
3. Bartley+
Solutions Library
Liv Tutoring
Essay Builder
Lit Guides

Bartleby is Known for the Following Specialty:
$4.99 only for the first month trial period
Free revision facility available
Monthly billing & subscription for regular users
Money-back guarantee for unsatisfied customers
Literature guide for students
Plagiarism tool
Math Solver
Writing Tools
Live Tutoring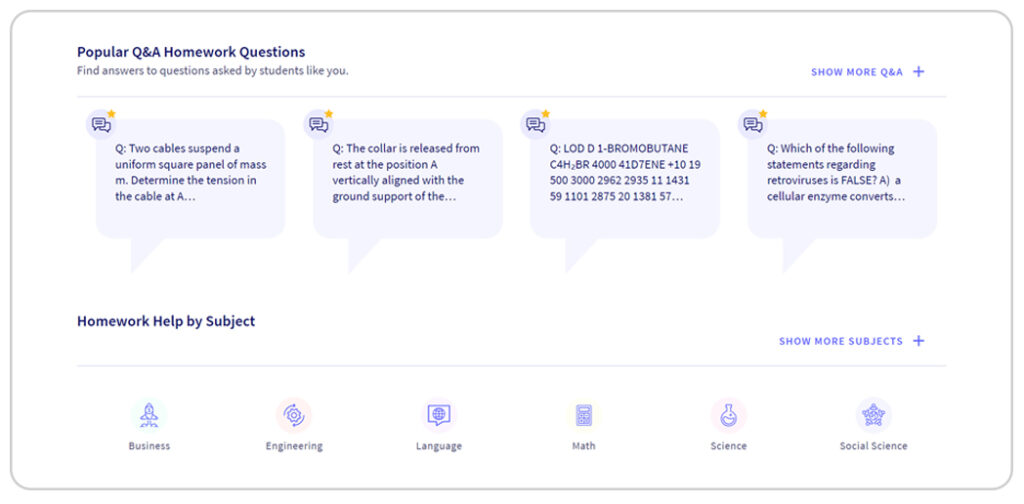 Why is Bartleby Considered One of the Best Options for Online Homework Help?
Bartleby is an online learning platform for students introduced in the EdTech industry to make studying easier and learning effective. It says that its mission is to serve students who want to be successful in their academics and also flourish in their careers. All the services are designed and developed keeping students' demands in mind. The learning tools and expert guidance enormously support students to do well in their exams and give good performances throughout the year.
Other than the expert homework help it offers, Bartleby also has excellent study resources available for students. It doesn't matter what courses you have and the subject help you need, you will get everything in Bartleby. Moreover, this site also provides students with popular question & answer services. From here, you will not only get answers to popular questions but also get to know which approach you should use while solving these questions.
Comparison Analysis- TutorBin vs. Course Hero vs. Bartleby
Personalized Help for Students
TutorBin: Personalization of online homework help is not new for TutorBin. This site offers this facility to ensure your task becomes unique, and you don't have to face any consequences when you submit them. Even if you assign similar tasks multiple times, separate tutors will be assigned for each task, and these will be solved from scratch. Moreover, if you are seeking help for writing tasks, you will get 100% original writing as per your personal choices of presenting them. Tutors are well aware of the instructions given by the educational institute, and they will do the task accordingly.
Course Hero: This online learning help site is one of the best resources where students get original solutions, though they don't offer any personalization. All the solutions that are delivered to students keep their instructions in mind. It is done to make sure that students' hard work gets easier and they become successful in their careers.
Bartleby: Although this site offers uninterrupted services to improve students by preparing them to perform well, they don't claim to have personalized solutions customized for individual students. Despite that, students prefer this site for offering excellent services that ensure that they get success in their academics.
Online Learning Platform
TutorBin: The online learning platform of TutorBin is designed by the tech team thinking about fulfilling both student and tutor requirements. It not only helps students to learn and cover their knowledge gap but also enables tutors to brush up their skills and make steady earnings on a continuous basis, irrespective of time & place.
Course Hero: This site also has its own platform that caters to students to opt for academic help to enhance their performance, and tutors become able to earn by using their skill sets. There were no time constraints for students as well as tutors.
Bartleby: Currently, this site is offering service sets that cover their demands as per their coursework. Through their platform, tutors will also be able to hone their skill sets and start earning at any time, from anywhere.
Service Price & Plans
TutorBin: If we talk about the pricing of the services, the basic price TutorBin charges for its online homework help service is $4. The price often seems less, but there was no compromise in the quality. The bulk work policy and low-profit margin make the pricing less, yet it successfully offers high-quality tasks to students.
Course Hero: This site offers its services for $9.95, though it is only the starting. Relatively more costly than TutorBin and Bartleby. Although service quality is good, without a subscription, it doesn't fulfill all the requirements. Partial answers and a few answers to textbook questions are some of the loopholes we've noticed here.
Bartleby: One of the shortcomings we have noticed while opting for Bartleby is that the trial offer of $4.99 doesn't have full benefits. Students can only ask a couple of questions. Until you take the subscription as per their given plan, you won't be able to avail as much access as they've promised for its expert help. You also have to opt for plans for library & textbook solutions.
Content & User Experience
TutorBin: It offers expert solutions to students. In addition, this site also has assignment help services for those who need help from subject matter specialists. Moreover, students can get diverse other academic help from experts along with on-demand precise one-on-one tutoring. They can also access the library for frequently asked questions and see the answers at no extra cost.
Whenever students seek online homework help from TutorBin, they get correct and unique answers. This site also opens its feedback section to know student responses.
If students don't get satisfied, TutorBin offers revisions by other experts to ensure students get what they want.
The option of personalization is one of the best things that increased the number of students opting for TutorBin
Constant feedback and excellent after-sales service assure students that they can rely on this online homework help site.
Course Hero: This site also provides students with academic help services. Course Hero allows students to check diverse university study materials on different coursework. It also has a strong pool of experts helping students solve their homework and assisting them in performing well through questions and answers.
Like TutorBin, Course Hero also offers students homework help. According to students, in most cases, experts solve the questions correctly.
In addition to homework, this site also offers explanations if students are unable to understand problem-solving approaches or they have doubts regarding the methods of solutions.
Course Hero also permits students to download study documents. It helps them to read the materials and prepare for their coursework better.
Through document uploading, students can earn free access to its services. Moreover, they can also earn by referring their friends.
Bartleby: This website is also known for its round-the-clock online homework help facility. Students drop their questions here to get expert help in solving them. Other than this, Bartleby also offers textbook solutions, and they provide students with a separate study materials facility over their online learning platform. You can also access their library containing popular questions and answers on different subjects.
Most students acknowledge the answers are correct, though the solutions are not personalized. In this case, you have to check thoroughly before submission.
Students can get explanatory homework solutions within short deadlines if they have access to its paid subscription.
Different learning tools are available for students to improve their efficiency in doing homework and writing tasks.
Students can also opt for expert tutoring and also access the popular Q&A section if they want subject clarity, understand their topics better and clear their doubts.
24/7 Expert Support Availability
TutorBin: This site offers 24/7 expert guidance to students. You can seek help even at odd hours. Executives guide you all the time, irrespective of the hours. It ensures you have a good experience while taking services from TutorBin.
Course Hero: This site also promises to provide students with round-the-clock assistance whenever they opt for expert help for their homework. The expert team tries to deliver students the solutions as soon as possible.
Bartleby: Bartleby claims that the turnover time is short whenever students seek its homework help service. This site guides students thoroughly and helps them get their solutions within the shortest possible time.
Availability of Study Documents
TutorBin: TutorBin doesn't offer study documents to students. They mainly focus on expert help through different services that improve students' efficiency.
Course Hero: The study materials of Course Hero are quite popular among the students. This site keeps a separate section where students not only find documents for different subject-oriented coursework. In addition, it also uploaded some of the study docs of famous universities.
Bartleby: This site has a section where they upload different course-related study materials, especially for students. Willing students can download these documents fully and study according to their learning style and pace.
App for Online Homework Help
Homework Help Websites
Service For Students
Availability of App
TutorBin
Grad School, University,
Ph.D. & College Students
App Store,Google Play Store
Course Hero
Grad school and university Students
App Store,Google Play Store
Bartleby
High school and university Students
App Store,Google Play Store

Customer Reviews- TutorBin vs Course Hero vs Bartleby
TutorBin: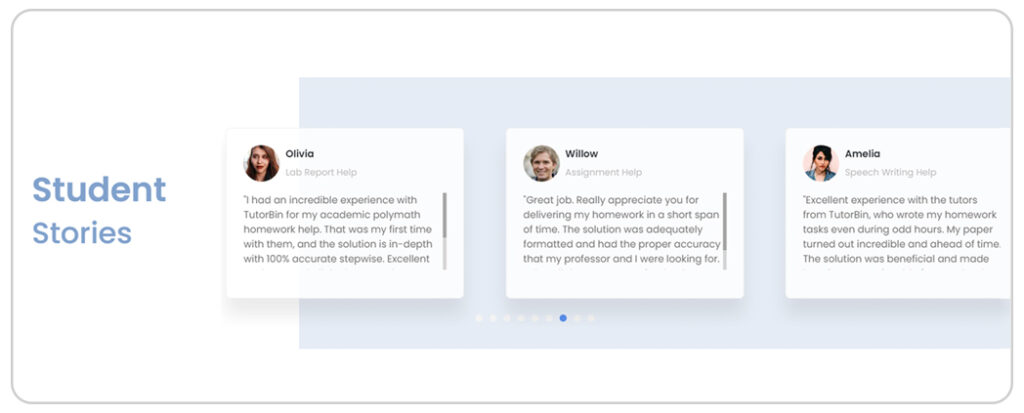 Course Hero: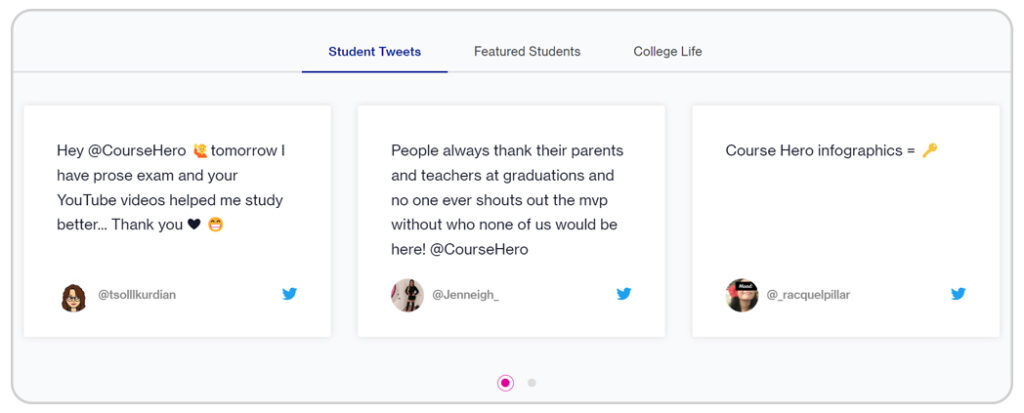 Bartleby: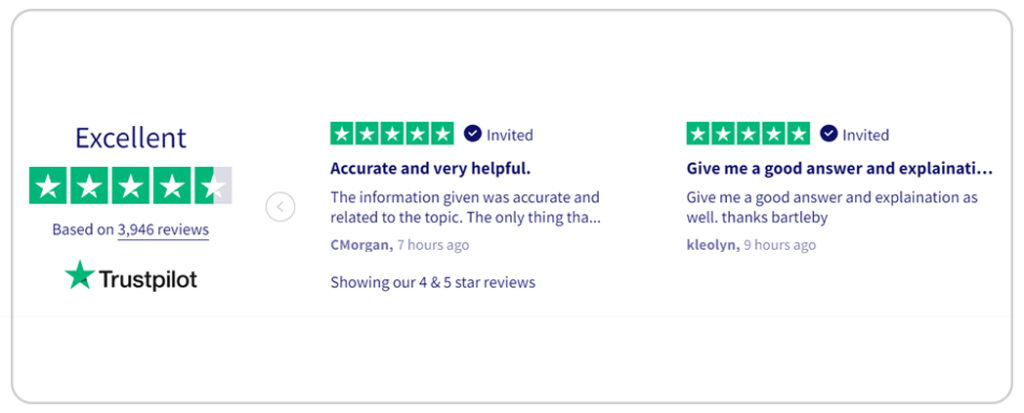 Final Verdict:
Our team of experts knows how confused you may feel when you feel the pressure to make the right choice, but you have a lot on your plate. We hope this article explains well what the market leaders in the EdTech industry have for you. Considering all the valuable information given here, be conscious about your choices and make informed decisions before you settle for one.